We are one of the few places that make custom boat covers for Thames skiffs. As the only company in the world hiring out skiffs to the public, and with over twenty years of experience in their building and renovation, we have unparalleled knowledge of how a durable and practical skiff cover is made, be it a mooring cover, or traditional camping cover as used by Jerome K Jerome.

A correctly-made cover for your skiff will substantially reduce the long term maintenance costs of ownership and makes outdoor storage a possibility.

Unlike some cheaper covers, ours are made from long lasting, lightweight poly acrylic, miles ahead of the heavy old fashioned canvas covers you may have struggled with until now. To ensure a close watertight fit, we make each cover individually based on the exact dimensions of your skiff.

Our camping skiff covers transform your boat into a snug comfortable floating tent at night, and doubles up as protection from the elements during the day, whilst still allowing you to row.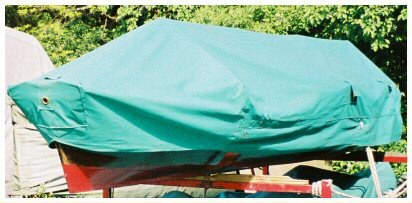 For an individual quote for a mooring cover, camping cover or other canvas requirements such as cushion covers, hoop bags etc, contact us by email or phone.
Thames skiff hire is a traditional boating holiday company based on the Thames River in London. We offer a comprehensive range of unique holidays tailored to your requirements. Many of our classic boats are over a hundred years old